- 17 février -
We are eagerly awaiting your artwork submissions, created using only Inkscape, for our 1.3 About Screen Contest. This contest represents one of the highlights for contributors across the project – to see just how artists and designers are putting the vector editor's tools and features to great use.
This year's release contest, which launched on February 5, has a new twist – a topic to rally around together. So, please join in and help us in "Celebrating 20 years of Inkscape"!
It's hard to believe that the free and open source Inkscape project has been around since 2003. That's when it "forked" or started its own path from its predecessor Sodipodi.
Almost two decades later, the Inkscape project has grown to include active contributors and artist and design communities from around the world. This diversity is part of what enables the project to continue advancing and launching new versions and innovating in its features, capabilities and solutions. Version 1.3 will continue the tradition. The draft release notes are available for reading in the Wiki.
In preparation for 1.3, as with all our major releases, the new Inkscape release will feature a contributing artist's work on the About Screen. Over the years, other such Inkscape contest entries have been used for visuals for articles, T-shirt designs, banners and more.
Looking back at the About Screen Contest entries over the years, it's impressive to see the variety of styles and tools used to create and, ultimately, inspire others, through artwork created using Inkscape.
Have you been looking for an opportunity to put your Inkscape skills into play? Are you willing to share your artwork with the world? If you answered yes to one or both of those questions, we're looking forward to seeing your creative work as a submission to our latest About Screen contest.
Entries for the Inkscape 1.3 About Screen Contest are open until Sunday, March 19, 2023. You can submit up to two entries.
Read up on the contest rules here. You'll also find a gallery of previous winners over the years!
Draw freely!
par
Inkscape est un logiciel professionnel de dessin vectoriel pour Windows, Mac OS X et GNU/Linux. Il est libre et gratuit.
Inkscape launches version 1.3 with a focus on organizing work efficiently

- 23 juillet -
With version 1.3 of Inkscape, you'll find improved performance, several new features, and a solid set of improvements to a few existing ones. (...)
What was it like at Wilberweek? (GIMP Hackfest)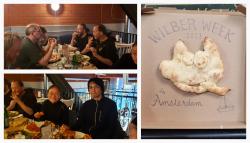 - 19 juillet -
Article by: C.Rogers Wilberweek 2023 A week with The GIMP project at Blender HQ, AmsterdamI was really excited to have the opportunity to meet (...)
Inkscape reveals tools for organizing efficiently in beta version of 1.3
- 31 mai -
From shapes and patterns to documents and fonts, Inkscape's 1.3 beta release offers you some new features, alongside a basket full of improvements (...)
Meet Inkscape's New About Screen Artist

- 23 mai -
...I gathered all my strength into a fist and began to create.Inkscape 1.3 is due to be released this summer. For each major release, we host a (...)
Try the Inkscape 1.3 alpha0 pre-release!
- 19 avril -
On April 2, we released Inkscape 1.3 alpha0 for testing! You can get it here.Please download this if you would like to help us test the (...)