- 19 juillet -
Article by: C.Rogers 
Wilberweek 2023
A week with The GIMP project at Blender HQ, Amsterdam
I was really excited to have the opportunity to meet some of the GIMP developers in-person after many conversations with them over IRC in the past, and Wilberweek presented not only a great opportunity to do just that, but also to visit the Headquarters of another of my favourite FOSS projects, the unstoppable freedom-centric software juggernaut that is the Blender project.
On arrival - Pizza at the De Pizzabakkers NDSM
A quick train trip from the airport and a free ferry ride across the bay, I was able to catch up with the GIMP crew at a pizza place right near the dock. The pizza was excellent as was the conversation. The chef also baked us a Wilber shaped pizza bread, which we then, naturally, worshiped like a god for the rest of the trip.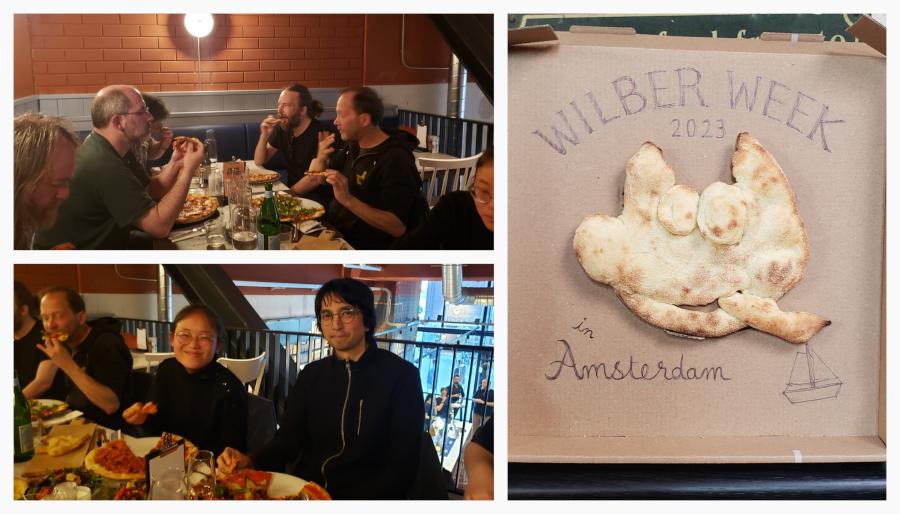 On board Nieuwe Maen, with the GIMP project
After the spirited dining experience, we retired to our place of residence for the week - The good ship Nieuwe Maen (New Moon). We had ample space for our laptops in the deckhouse cabin, which featured three large tables and plenty of seating and outlets for late night hackfest activities, and on-board dining. Adjacent to this space is a full kitchen with large refrigerator, which I set up my hackfest coffee machine and served coffee to those who partake in the pleasures of the wicked bean.
Although the bunkbeds were somewhat lacking in overhead space (sitting up in bed was impossible), the bedding was quite comfortable, and the gentle rocking of the boat I found to be particularly soothing.
The boat also featured two toilets, and a surprisingly spacious shower, which our host informed us was "made for couples". During the tour.
Amsterdam via bike
The next day we explored the area, mostly on foot, and collected our bikes, which were rented for us by the GIMP project.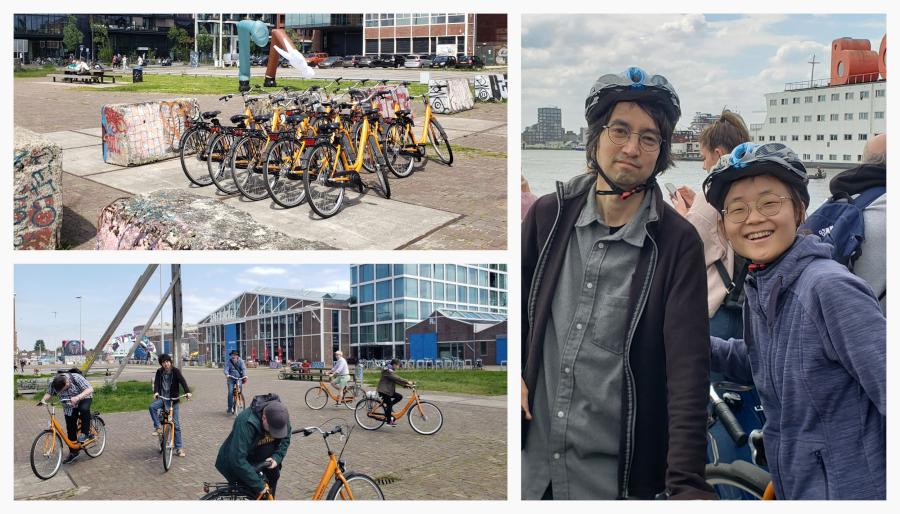 Amsterdam NDSM is like no other place I've been. It's an ecclectic mix of old industrial building and equipment turned into hidden galleries, and sometimes complete building centers built inside huge warehouses. From the outside, there's absolutely no indication that these exist, so if you're ever near the Amsterdam NDSM area, I highly recommend doing a bit of your own exploring. It's really wild! We concluded the day with a visit to a local brewery on the docks, for drinks and dinner, all funded by the GIMP project.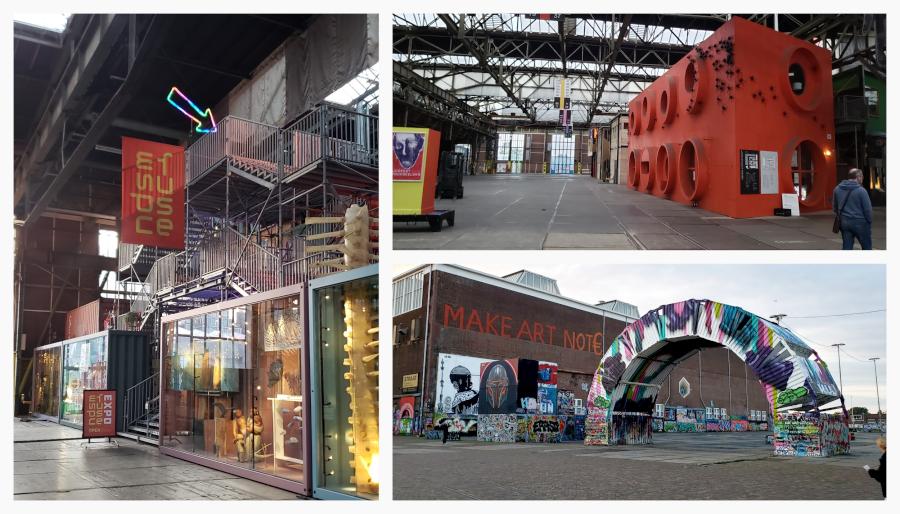 Wilberweek Hackfest - Blender HQ
A bikeride through the city's robust biketrail intrastructure takes you through numerous little public parks, along rivers, and through the sparse traffic, made sparser by the fact that most people are happy to use bikes in place of cars. The weather was absolutely perfect, with cloudless blue skies and a cool breeze made navigating the winding bike-trails a very pleasant experience, despite google maps having no clue how to use them to get to the destination.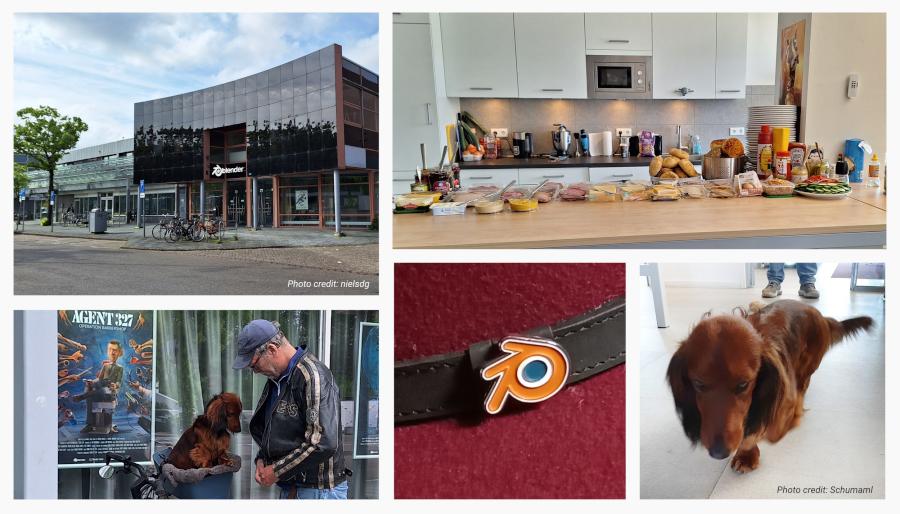 Upon arriving at Blender HQ, we were greeted by Ton Roosendahl (and his dog/studio mascot Bowie) who is now famous world-wide for bringing FOSS to the forefront of 3D animated productions. We were heartily welcomed, and treated like royalty, given full access to the building's many departments and a choice of 4 conference spaces in which to work during the week's hackfest activities.
Lunch was provided daily by Blender's in-house caterer, and coffee was available via a truly fabulous combination coffee grinder and espresso maker, which of course, put my Inkscape hackfest Nespresso-pod machine to absolute shame, but meant that I didn't have to haul the thing via bike each day. Ton made a point to say that water bottles were not allowed out of the kitchen area, as it was a perfect opportunity to come down, socialize and refill your glasses. Indeed, on some days I preferred to get some work done in the lounge area accompanying the kitchen, to talk with various Blender folks. It's a very social working environment, but at the same time no one had any issues ending a conversation to go get back to work - it seemed to me the perfect combination of personal work ethics, and the natural social tendencies that drive creativity, and make work what you want to be doing, rather than merely an endless list of things that must be done.
I've never really been in a place quite like Blender HQ, and found myself quite envious of the casual self-driven working environment. They also had some excellent swag in the form of enameled pins, which I was more than happy to nab for my hat band. Ton's dog Bowie was, of course, quite happy to oversee all the goings on and is an obvious favorite around the studio.
Wilberweek Hackfest - What did we do as a group?
One of the great things about the location of course is that All three projects, GIMP, Blender and Inkscape had the opportunity to liaise and talk about cross-project integrations, and the possibility of creating a completely FOSS workflow, using these three softwares in produciton. Our main focus being maintaining consistency through color profiles, which is an ongoing task in all three projects. Numerous meetings took place over the course of the week (most of which were over my head, being a designer rather than a developer), though I did get a chance to share parts of my workflow, and voice preferences for how things might be best done from a user perspective.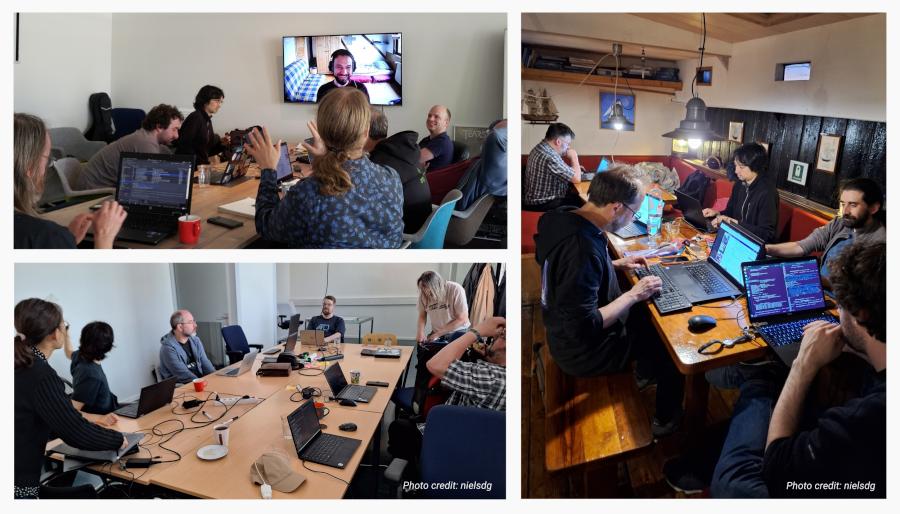 Ton also gave us a presentation on how he turned Blender into a thriving FOSS business, which is seen as a shining beacon to those of us who long for a woqrld where free software frees us in our work as well as contribution play. Ton extolled the virtues of a product-oriented mindset with users and vital functionality at the forefront of his FOSS business, as well as a FOSS-only mindset for the majority of the software used in Blender's own production. Though he admits that Blender's VSE is not quite up to speed with products like Davinci Resolve, which is the only non-FOSS software the institute allows the use of.
I had expected far more occasional use of proprietary software than is actually present at Blender, and found it refreshing, being a rather hard-line FOSS enthusiast myself. I, for example use Blender's VSE for all my video production work, and find it to be at least good enough that I don't feel the need to switch to non-free software to get my production work done. I tend to do a lot of neat things too.
The group concluded each day with a trip to one of the local pubs / restaurants, and then continued our various hacking activities on the boat on into the night.
Wilberweek Hackfest - What did I do?
Mostly, I wanted to split my time between GIMP and Inkscape to make some progress on things I felt benefited both, since both GIMP and Inkscape were kindly footing the tab for my attendance.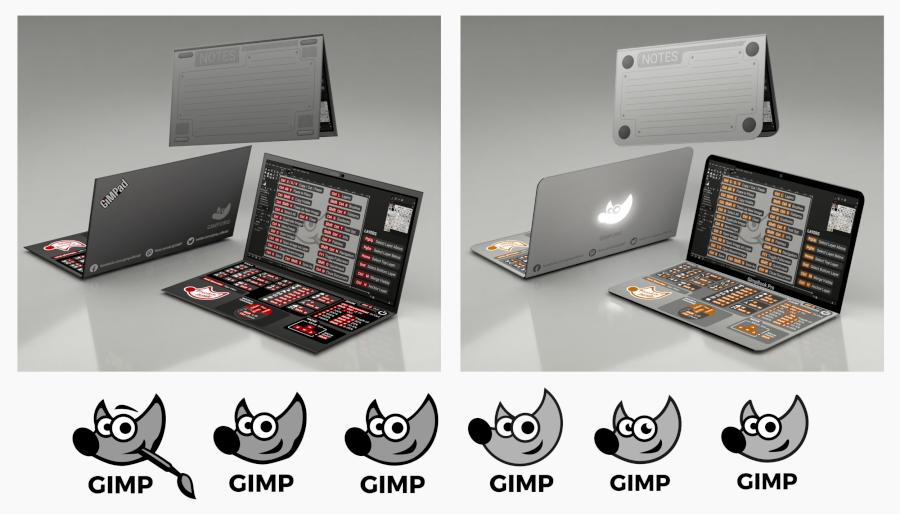 It was fun to spitball some ideas about more graphics for the GIMP project, including some sessions regarding my previously submitted logo redesign for the GIMP logo, which the GIMP project members then took and developed some of their own versions. I've included mine here, as I believe they are still working on theirs.
I also wanted to do something similar to the Inkscape business card I designed some years ago for the Inkscape project, which features the hotkeys I use most in my production work. This has proven to be quite a popular bit of swag at conferences, and the graphic itself has been shared around the various Inkscape forums extensively as a way to welcome new members.
I used this opportunity to develop out an idea I had to turn the card into a mini-laptop with even more hotkeys than previously possible. GIMP's many many tools were the perfect opportunity to try out this idea, and I completed two designs, one for those who like silvery metallic laptops, and those who prefer the older thinkpad-style design aesthetic of classic utilitarian laptops.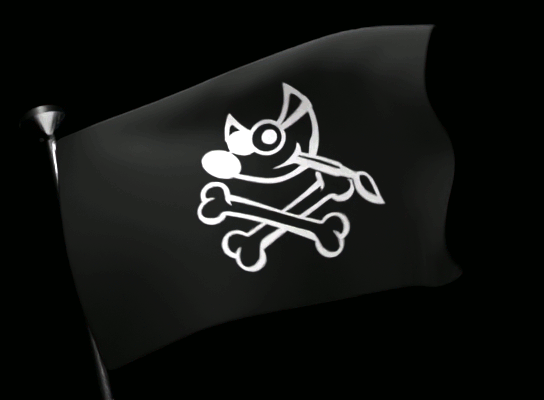 Of course, given the nautical motif of our stay on the New Moon, I threw together a custom GIMP-themed pirate flag. In the end, we decided not to fly it on an actual flag after some discussion of whether such a thing was even allowed on a seafaring ship. Basically, we collectively chickened out on that one. Instead, I just used Blender and some wind simulation to fly the Jolly Wilber. Arrrrr!
Apart from the swag, I'm also working on developing Social media suptertemplates, which will allow the export to the many variously sized social media graphics (and internal Inkscape graphics), for new releases, since we have an upcoming 1.3 release that needs a bunch of new graphics from our talented About Screen contest winners, and entrants. The purpose of this supertemplate is to make updating the graphics, and pushing out social media releases to be fast and easy rather than the burdensome chore that it currently is. This uses Inkscape's advanced clone functionality to generate all the sizes necessary by just replacing some key graphics and text once, and then watching the changes magically propogate to all the sizes, named appropriately for batch export all at once, without the need for any external scripts. This will dramatically lower the bar for contributors who wish to perform this task, as it can all be done in Inkscape's normal UI.
Goodbye Amsterdam!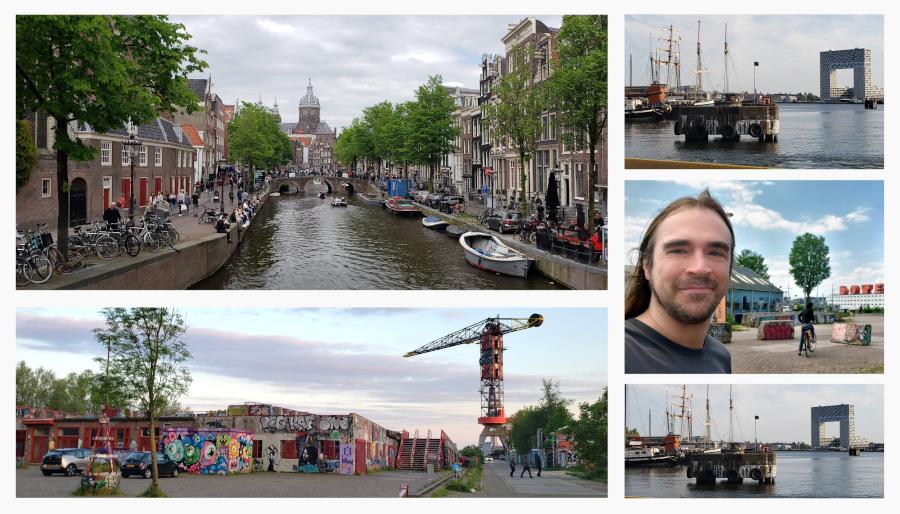 After some fond farewells to Ton and the Blender crew, and a final self-guided bike tour of the city, we returned the bikes, cleaned up the boat, and set off towards our various parts of the world. I feel this experience has brought us all closer together, and being able to put faces and voices together with those on IRC, is really invaluable to our respective projects. I look forward to seeing all our friends in the GIMP project again some day. Maybe together we can get LGM going again in some capacity. It would be great to meet more often!
Thank you GIMP and Blender!
I'd like to conclude with a hearty thankyou to Jehan and the GIMP team for setting this up, and making sure everything went smoothly, and to Ton, and the Blender folks for providing an excellent venue, food, and marvelous conversations and inspiration for our ongoing FOSS endeavors. I hope to be able to attend GIMP events in the future. It was a truly marvelous and ultimately unforgettable week, which I will enjoy in both memory and photos into the future.
par
Inkscape est un logiciel professionnel de dessin vectoriel pour Windows, Mac OS X et GNU/Linux. Il est libre et gratuit.
Big, small release – Inkscape 1.3.1 is out!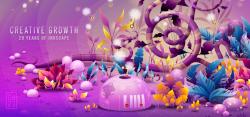 - 18 novembre -
The latest point release, Inkscape 1.3.1, has grown into one of the biggest bug fix packages we've ever shared with the community. Update to (...)
Inkscape launches version 1.3 with a focus on organizing work efficiently

- 23 juillet -
With version 1.3 of Inkscape, you'll find improved performance, several new features, and a solid set of improvements to a few existing ones. (...)
Inkscape reveals tools for organizing efficiently in beta version of 1.3
- 31 mai -
From shapes and patterns to documents and fonts, Inkscape's 1.3 beta release offers you some new features, alongside a basket full of improvements (...)
Meet Inkscape's New About Screen Artist

- 23 mai -
...I gathered all my strength into a fist and began to create.Inkscape 1.3 is due to be released this summer. For each major release, we host a (...)
Try the Inkscape 1.3 alpha0 pre-release!
- 19 avril -
On April 2, we released Inkscape 1.3 alpha0 for testing! You can get it here.Please download this if you would like to help us test the (...)