- 23 juillet -

With version 1.3 of Inkscape, you'll find improved performance, several new features, and a solid set of improvements to a few existing ones.
This version is squarely focused on helping users get organized and work more efficiently with our free and open source vector-editing software.
In fact, our project developers, most of them volunteer contributors from around the world, have been working hard behind the scenes on the code base to improve the performance of the software. Some of the heavy rendering tasks have been separated internally, to help with performance when zooming, panning and transforming objects. By default, Inkscape will now leverage the power of all your computer's cores when it renders objects, but you can also choose to limit its powers in the preferences.
As always, there are a few new features in this release, which have been tested by users during the beta release.
Many thanks to everyone who lent a hand with this important step in the process!
Among our favorites are several that focus on helping you get things organized and work more efficiently when using Inkscape.
Shape Builder tool
Combining paths by clicking and dragging to create new paths with the Shape Builder tool
Inkscape's new Shape Builder tool helps get the job done quickly and efficiently. You'll enjoy the overview of all shapes and the ability to select multiple overlapping shapes – click, or click and drag them. Your objects will retain their original color, too. Shortcuts for this tool include Shift for quickly switching between adding and subtracting parts. There is one caveat for the tool at this time, as it is still pretty new. When you use it with curved shapes, you can end up with paths with a large number of nodes. If you don't need to be really precise, use Ctrl+L or the 'Simplify' LPE to simplify the result. This is on the list to be addressed in a future version of Inkscape.
Document Resources Dialog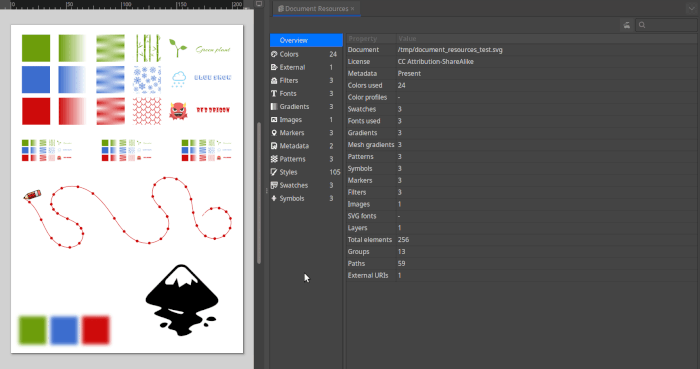 The Document Resources dialog shows statistics about your document
If you like to efficiently organize your Inkscape documents, this is the tool for you. There are times when being able to quickly see an overview of elements is key – when sharing a file for commercial printing, for instance. It's a checklist of resources contained in your document, including patterns, filters, colors, fonts, symbols, markers, and much more.
Font collections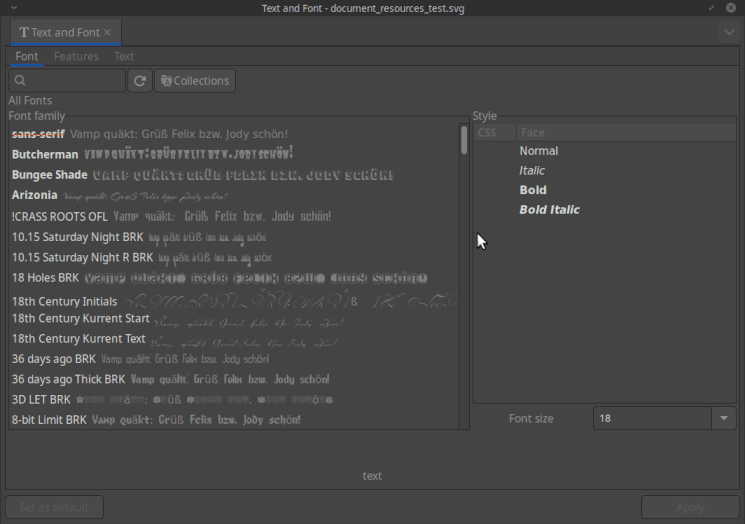 Creating a font collection and filtering by collection
Still on an organizing path, this new button helps those who wrestle with many fonts to categorize them by collections – and easily and quickly identify which font(s) to grab for which contract or client or custom project. Or you can organize them by style – cursive, funny, serif, sans-serif... There's a new icon to help you find those collections.
Patterns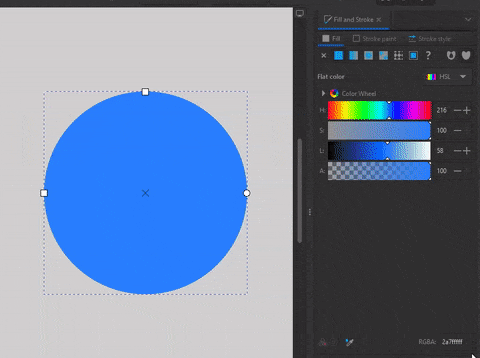 Adjusting pattern parameters in the Pattern Editor
Not only do you have access to a funky and practical library of patterns within Inkscape, there's a new pattern editor that enables you to adjust a pattern. In addition to being very useful, it's also fun to explore... have fun playing with shape, size, and rotation with these repeats. Change colors for your version of a pattern and adapt the offset, too.
For your inner organizer, the patterns are now categorized into collections here, so they're easier to find a second time.
Inkscape 1.3 has plenty to offer in terms of improvements to the features you know and love already. We've put together a short list of ones to check out first:
Layers and Objects dialog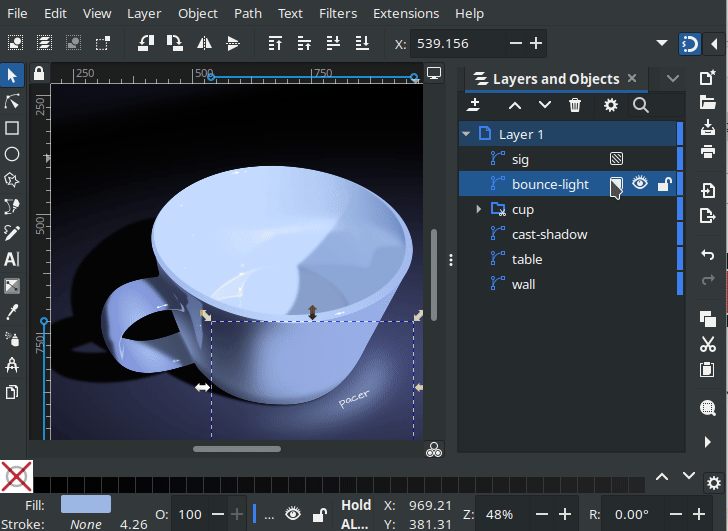 Setting opacity and blend mode in the Layers and Objects dialog
The search box is back! Create and filter by name. The improved Objects dialog allows you to once more use the slider to adjust the opacity or blending mode of a layer, and drag multiple objects to hide or lock them in a single swipe; done. You'll also enjoy the shortcuts for navigating and tweaking – the arrow keys, space bar and shift key all have roles.
Persistent snap bar
For those of you who use snapping, you'll be able to once again quickly adjust the snap settings. For those of you who haven't played with this feature, now's the time to test it out.
Page margins and bleed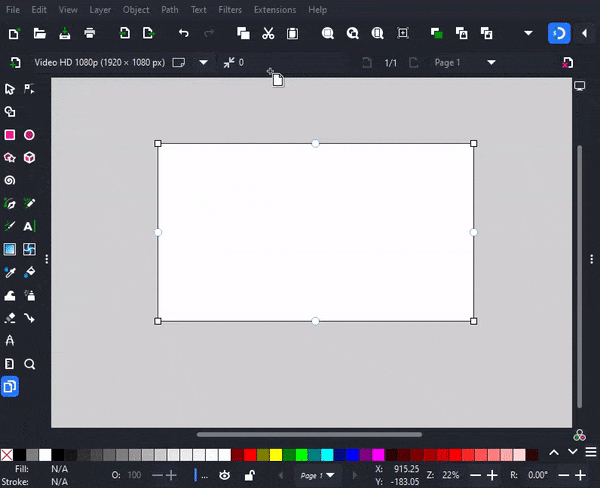 Setting page margins
When you're prepping your document for print (in RGB, of course), you now have more control over margins and bleed. You'll spot the new round handles in the middle of the page borders. Simply click and drag them to set your margins. When it comes to the red boundary for the bleed margin, you can edit it from the tool controls bar, in a fly-out menu that allows you to customize your document.
Lasso selection for nodes
Being a node ranger just got easier! You'll appreciate being able to hold the Alt key and draw to select nodes that are hard to select with rectangle selection.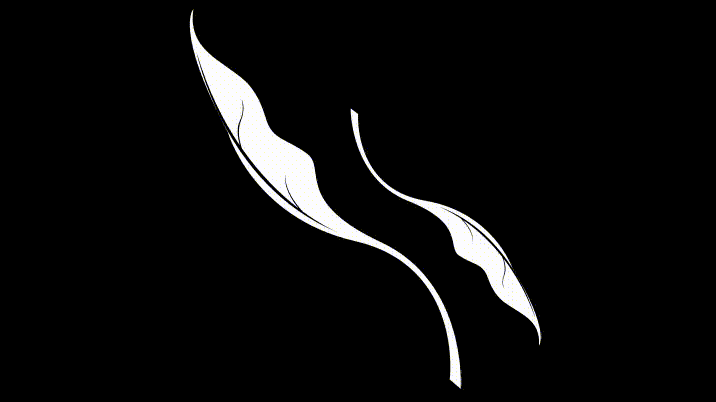 Selecting nodes by drawing around them
Live Path Effects (LPE) dialog redesign
Redesigned LPE dialog for quick and easy access
If you ever wanted to get a better handle on your LPE situation, this revamped dialog delivers just that. See an overview of your stack unfolded and enjoy a quicker way to add a new LPE to your work all while making it easier to see which one you've got selected.
PDF import rewritten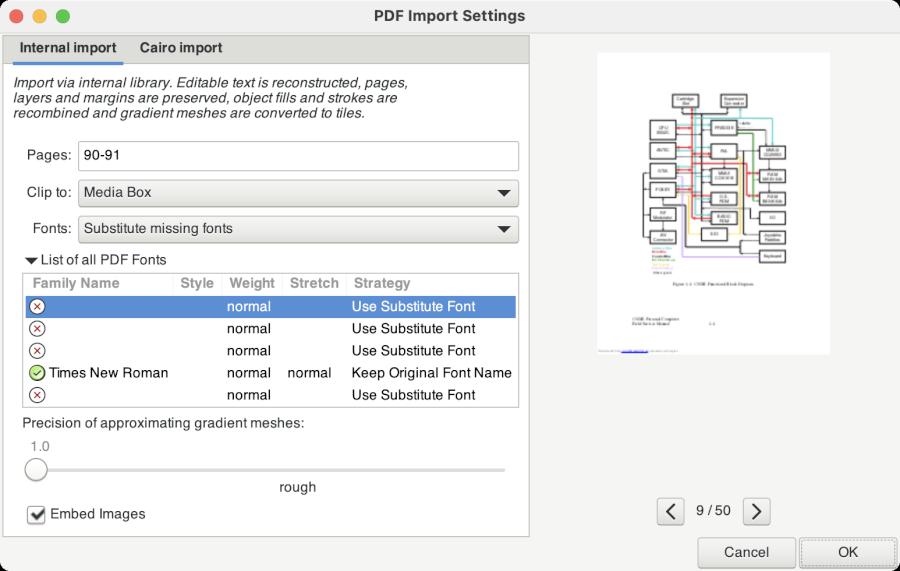 Informative and feature-rich PDF import dialog
Inkscape's PDF importer has undergone an overhaul. You'll find a new dialog with an overview of what Inkscape will do with each font it finds in your PDF, and more.   
Node deletion logic changed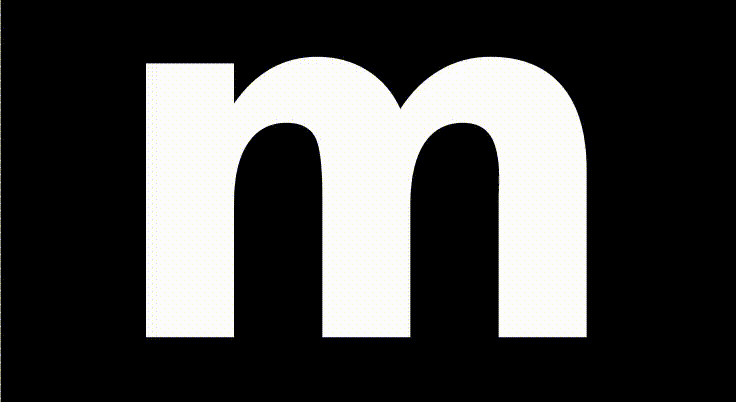 Inkscape guessing the desired result when deleting nodes (mostly smooth results)
Deleting nodes now doesn't always behave the same, as Inkscape tries to detect whether you want the result to be a straight line connecting the nodes, or whether you want the result to be a round and smooth curve.
Pinned colors in palette
We're working hard to help you find the colors you need to succeed. Choose and pin the most important colors from a palette and keep them at your fingertips. Then unpin the ones you don't need. Customize the size of the color swatches, too. This is practical when you've got a project with a specific color palette to respect. Additionally, the new shortcut F hides all canvas overlays and anything outside the page, so you can check your results and see what's going to be printed.

Scrolling through the palette, with pinned colors on the left
Paste on page
Now you can copy and paste an object from one page to another one and it'll land in the same position. This is terrific when building templates and presentations or clones for animation using Inkscape.
Filter editor overhaul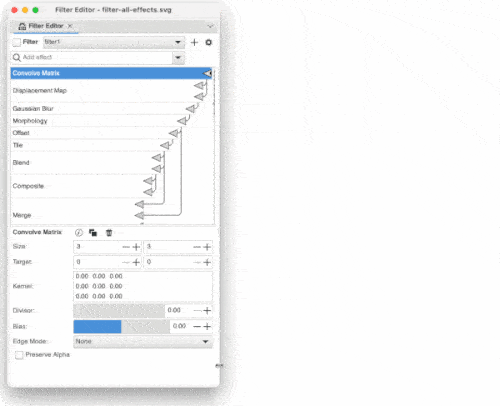 The Filters dialog automatically changes layout on resizing
This dialog has seen much love and is now easier to use. You'll appreciate the pop-up menu when applying a filter to your selection and searching for certain effects, like blur. 
For more information, the Inkscape 1.3 Release Notes are up to date to help you understand all the changes included.
Get Inkscape 1.3 for Linux, Windows or macOS!
If you have questions for us, head to our web site and find our online community, where you can also find ways to get involved in the project.
In the meantime, Draw Freely.
par
Inkscape est un logiciel professionnel de dessin vectoriel pour Windows, Mac OS X et GNU/Linux. Il est libre et gratuit.
What was it like at Wilberweek? (GIMP Hackfest)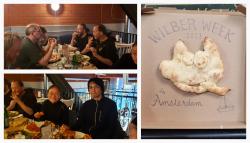 - 19 juillet -
Article by: C.Rogers Wilberweek 2023 A week with The GIMP project at Blender HQ, AmsterdamI was really excited to have the opportunity to meet (...)
Inkscape reveals tools for organizing efficiently in beta version of 1.3
- 31 mai -
From shapes and patterns to documents and fonts, Inkscape's 1.3 beta release offers you some new features, alongside a basket full of improvements (...)
Meet Inkscape's New About Screen Artist

- 23 mai -
...I gathered all my strength into a fist and began to create.Inkscape 1.3 is due to be released this summer. For each major release, we host a (...)
Try the Inkscape 1.3 alpha0 pre-release!
- 19 avril -
On April 2, we released Inkscape 1.3 alpha0 for testing! You can get it here.Please download this if you would like to help us test the (...)
Inkscape is hiring: Accelerating the GTK4 migration
- 17 avril -
The GTK4 migration is one of the major refactoring projects on Inkscape's roadmap. Besides migrating to a newer and more actively developed GUI (...)