- 14 juillet -
Over the years, the Debian GNU/kFreeBSD port has gone through various phases. After many years of development, it was released as technology preview with the release of Squeeze and eventually became an official architecture with the release of Wheezy. However it ceased being an official architecture a couple of years later with the release of Jessie, although a jessie-kfreebsd suite was available in the official archive. Some years later, it was moved to the debian-ports archive, where it slowly regressed over the years. The development totally has now been stopped for over a year, and the port has been removed from the debian-ports archive. It's time to say it goodbye!
I feel a touch of nostalgia as I was deeply involved in the Debian GNU/kFreeBSD port for nearly a decade, starting in 2006. There are many different reasons to like GNU/kFreeBSD ranging from political to technical considerations. Personally, I liked the technical aspect, as the FreeBSD kernel, at that time, was ahead of the Linux kernel in term of features: jails, ZFS, IPv6 stateful firewalling, and at a later point superpages. That said it was way behind for hardware support and to the best of my knowledge this remains unchanged. Meanwhile, the Linux kernel development accelerated in the latter stages of the 2.6.x series, and eventually closed the feature gap. At some point, I began to lose interest, and also to lack time, and slowly stepped away from its development.
par aurel32
Planète des utilisateurs Debian - https://planet.debian.org/fr/
Akvorado : collecteur et visualisateur de flux réseau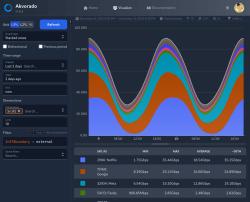 - Décembre 2022 -
Au début de cette année, nous avons publié Akvorado, un collecteur, enrichisseur et visualisateur de flux. Il reçoit les flux réseau de vos routeurs (...)
FRnOG #36 : Akvorado
- Septembre 2022 -
Voici les diapositives que j'ai présentées pour le FRnOG #36 en Septembre 2022 à propos d'Akvorado, un outil de collecte et de visualisation des flux (...)
James Webb Space Telescope launched!
- Décembre 2021 -
The long awaited James Webb Space Telescope has finally been successfully launched today. It is a Xmas gift for many people who have been waiting (...)
Session graphique sans authentification avec startx et systemd
- Décembre 2021 -
Si votre station de travail utilise un chiffrement complet du disque, vous pouvez souhaiter exécuter directement votre environnement de bureau (...)
Git comme source de vérité pour l'automatisation du réseau
- Novembre 2021 -
La première étape pour automatiser un réseau consiste à créer la source de vérité. Il s'agit d'un référentiel de données qui décrit l'état attendu : la (...)