- 17 avril -
The GTK4 migration is one of the major refactoring projects on Inkscape's roadmap. Besides migrating to a newer and more actively developed GUI framework version, this will help to significantly improve the performance of the user interface and the canvas (in particular OpenGL).
However, the migration is a complex endeavour and will change hundreds of files in our codebase. For this reason, it is imperative to perform the migration as quickly as possible, because all other work that touches the user interface during the migration time will face conflicts.
For this reason, the development team has decided to accelerate the migration in a two-fold way: a GTK expert, i.e. a senior C++ developer with GTK experience, will be hired and bring expert knowledge about GTK to the table. At the same time, an Inkscape expert will be hired for the same duration, bringing expert knowledge about Inkscape's internal workings to the table. Those two will form a powerful team to drive the GTK4 migration. Additionally, multiple senior Inkscape developers are available to consult the migration process as a whole.
Job posting: Senior C++ developer
The Inkscape project is looking for a senior C++ developer with experience in gtkmm.
They will perform some of the essential steps of the GTK4 migration for Inkscape including ensuring that the C++ bindings (gtkmm, pangomm, cairomm, etc.) are adequate, over a four month time period.
What we expect from candidates:
Significant experience in gtk / gtkmm, ideally some experience in GTK4.
Ability to work in an asynchronous setting / working across time zones, generally available during US or EU time zones.
Ideally, experience with FOSS development.
The candidate will perform essential steps in the GTK4 migration (see https://docs.gtk.org/gtk4/migrating-3to4.html). Knowledge of GTK4/gtkmm4 is advantageous.
They will work closely together with an Inkscape expert with intimate knowledge of the Inkscape codebase. Thus, no knowledge of Inkscape is required. A record of contributing to upstream projects is preferred.
Duration:
The project is scoped to fit a 16-week full time schedule. The first 8 weeks of the project will serve as an evaluation period for both sides. Depending on the progress, the project may be extended to up to 16 weeks (with additional compensation). The schedule may be shifted in order to accommodate part-time candidates. Work is expected to start June 01, 2023. Payment terms: Net 30 and can pay in USD or Euro.
Application documents:
CV
Portfolio
Answers to the following questions (one paragraph each):

Summarize your experience with gtk / gtkmm, and other related projects.
Motivation to work on this project.

Please send your application to jobs (at) lists.inkscape.org.
Application deadline: May 15, 2023.
Interviews will be conducted in the week May, 22 – May, 26.
Job posting: Senior Inkscape developer
The job posting has been published to the mailing list.
par
Inkscape est un logiciel professionnel de dessin vectoriel pour Windows, Mac OS X et GNU/Linux. Il est libre et gratuit.
Inkscape reveals tools for organizing efficiently in beta version of 1.3

- 31 mai -
From shapes and patterns to documents and fonts, Inkscape's 1.3 beta release offers you some new features, alongside a basket full of improvements (...)
Meet Inkscape's New About Screen Artist

- 23 mai -
...I gathered all my strength into a fist and began to create.Inkscape 1.3 is due to be released this summer. For each major release, we host a (...)
Try the Inkscape 1.3 alpha0 pre-release!
- 19 avril -
On April 2, we released Inkscape 1.3 alpha0 for testing! You can get it here.Please download this if you would like to help us test the (...)
1.3 About Screen Contest — celebrating 20 years of Inkscape
- 17 février -
We are eagerly awaiting your artwork submissions, created using only Inkscape, for our 1.3 About Screen Contest. This contest represents one of (...)
Hiring! Python developer for import extension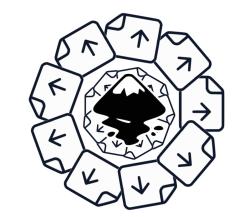 - Décembre 2022 -
Inkscape Interoperability, Adam BelisFor the Inkscape project and its users, interoperability with other software packages, both free and (...)